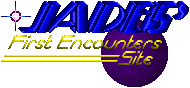 Ship Reviews
One of the big questions people ask about FFE is which ship is the best? This section attempts to answer that question by examining each ship in turn, and will hopefully be a lot more useful than the views of Big Bob Iascatti expressed in your manual! Each page contains (hopefully!) accurate stats, my comments, and a nice picture of the ship.
You may notice that there is a * next to the entry for the class 8 drive (where appropriate). This means that you can't buy the drive in the shipyards. Also, you'll see that I give a 'with drive' capacity. This is because I feel that the 'no drive' capacity can be misleading, especially in the larger ships. Since all of a particular class of ship come with the same default drive, I thought it a good idea to include a 'with drive' figure so that you get an idea of the ship's starting cargo space.
Finally, note that the trade-in value shown in the shipyards only takes into account the value of your current ship and its drive - equipment isn't included in the value, so if you want to get a return on your equipment investment don't forget to sell it before you part with your ship.
Index
---
Adder
Anaconda
Asp Explorer
Boa
Cobra Mk 1
Cobra Mk 3
Constrictor
Eagle Long Range Fighter Mk 1
Eagle Long Range Fighter Mk 2
Eagle Long Range Fighter Mk 3
Falcon
---
---
Gecko
Griffin
Gyr
Harrier
Harris Fighter
Hawk Airfighter
Imperial Courier
Imperial Explorer
Imperial Trader
Interplanetary Shuttle
Kestrel Airfighter
Krait
---
---
Lanner
Lanner 2
Lifter
Lion
Mantis
Merlin
Moray 'Starboat'
Osprey Attack Fighter
Osprey X
Panther Clipper
Puma Clipper
Python
---
---
Saker Mk 3
Sidewinder
Skeet
Spar
Tiercel
Tiger Trader
Transporter
Viper Defence Craft
Viper 2
Wyvern
---
---
Back to the Main Page