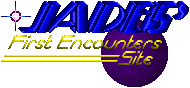 The Downloads Page
Welcome to the Downloads Page! Here you can download files related to FFE. Stuff that'll be here will be FAQs, commanders, little programs and other bits and bobs I find. To give a guide as to how long you may be waiting to download files, I have included the approximate size of all the files rounded to the nearest Kilobyte. Note that many of these files are compressed Zip files, so you may need to obtain a program capable of reading them. If you're running Windows XP, it is already capable of reading Zip files.
While the main focus of this site is Frontier: First Encounters, I have downloads for other versions of the game. I have added icons to indicate which version of the Elite series each download is intended for.
---
---
This section allows you to download text files related to FFE, like the FAQ or bits that haven't been included in my pages (yet!).
Amiga Frontier: Elite 2 FAQ (118K)


Compiled by Christoph Tietz. Although this is mainly aimed at Amiga FE2 pilots, a lot of the info in here is very useful for pilots in FFE, particularly those who like exploring. In addition, there is a lengthy examination of the 'Wormholes' so you can get info on one of the more complex and little known aspects of Frontier. Please note that wormholes do not function on FFE!
Decoded Journal Text (495K)


This file contains all of the journal articles from FFE, in standard text format. The decoding was originally done by Russ Williams, but his Geocities site appears to have gone. I found the directory with the files in on my hard disk but not the archive itself so had to create a new zip file. The journal text is ©1995 Frontier Developments Limited, and is available for download with their permission. .
FFE Manual in French (1805K/1.72MB)


The original French manual for FFE, in a handy PDF file with new colour screenshots. Kindly produced by a reader who produced the PDF and made the screenshots but wishes to remain anonymous. This file contains material which is Copyright Frontier Developments, and appears with their permission.
Dark Wheel (44K)
Dark Wheel is the legendary story based on Elite and was published by the equally legendary AcornSoft in 1984. Now rather tricky to get hold of, you can now download the entire story as a zipped textfile by clicking on the above link! Note that the version available on Ian Bell's website has better formatting.
The Handcoded Mission Text! (46K)


If you use an editor to read the FIRSTENC.EXE file, you'll be surprised to find that, in-amongst the gibberish which makes up the actual program, the actual in-game text for the 'hand-coded' missions is there in blatant plain text!! This file contains that text, so you can see what's in the game. Note that, apart from the obvious difference that the program code's been removed, this is exactly what's lurking in that .EXE file!! Remember to turn 'wordwrap' on...
FFE Information (22K)


An archive containing several informative files about FFE, including one containing the stats of all the ships in an easy to read table, allowing comparisons. Compiled by George Hooper.
Combat Ratings Comparison File (3K)
Ever wonder why it seems to be taking you a while to rise in combat rating? Wondering perhaps which game was the hardest to become Elite on? Now your questions have answers! This file contains all of the thresholds for the ratings on all the versions of Elite.
Running FFE on Windows 95 Systems (BETA VERSION) (24K)


This file contains all the information you'll need to know in order to run FFE on Windows 95 (and Windows 98) systems. It is a Word for Windows 6.0 format document, and can probably be read on the OS of your choice with suitable conversion software. The lack of DOS support in Windows XP, together with JJFFE, probably renders this file obsolete but it remains here for those who like a challenge.
Extracts from the CIX Frontier Conference (45K)


An interesting text file containing extracts from CIX's Frontier Conference (a kind of newsgroup), which covers events leading up to and following the release of FFE. Thanks to Chris John Jordan for providing this file.
Frontier Textfiles (82K)


Some interesting textfiles relating to FE2, on various topics.
Elite Documentation (32K)


The Elite Manual and keys. You should use Notepad or your favourite text editor to load these files. A much nicer HTML version of the manual can be found at Ian Bell's website.
---
---
This section contains little programs and utilities which will help you to get more out of FFE. Please note that you use these programs at your own risk, and I cannot be held liable for any loss or damage caused by your use or misuse of the programs available here. I cannot stress highly enough the need to read any accompanying documentation.
HMP2MID (10K)


Written by Markus Hein, this very useful little utility allows you to convert the FFE music from its native .HMP format to the much more universal MIDI format, so you can now listen to your favourite themes while working! Note:- you should use a backup of the original music files and ensure that the ones in the FFE directory stay as .HMP otherwise the game may not work. This program runs in DOS.
FFE Mod (687K)


This severely cunning file, written by George Hooper, does a number of things to your copy of FFE. One of the best features is it adds the special equipment to the normal shipyards. Invaluable for the creation of custom ships! Remember to read the Readme .txt file...
FFE Hacking Suite (53K)


A complete set of documents detailing how to hack the game, including a little hex editor. Another great compilation from George Hooper.
FFE 'Startup' Ships (410K)


Another set of files from George Hooper, this archive contains a number of specially edited ships all in the default startup position (i.e. Old Blackelk in Gateway, 3250). Since these ships have been hacked, they appear here rather than in the commanders section.
ForeCol (5K)


A utility to change the colour of space from blue to black. This utility may cause minor display problems. If you're using JJFFE 2.8, you don't need this file as the 'Graphics' part of the options menu now includes a 'Space Colour' section.
Frontier Patch (11K)


A patch to fix a bug in PC Frontier where the game can crash if you leave an MB4 in a system.
GRF2BMP (11K)


A program by Steve Critchlow, which converts the .GRF files generated by pressing Print Screen in FE2 into .BMP files.
---
---
This section is where all of the commander files are, all ready for you to download!! The files are organised according to what they are for.
FFE Ships
(average size 45K)

Now featuring Jades Dynamics SelectaShipTM technology!
Ever wanted to have a test fly of a ship before you blow a fortune on it?? Perhaps you want to see if my reviews are right! Now Jades Dynamics (Retail) make you this amazing offer:- own any one of the ships in FFE, fully equipped, for absolutely nothing!!! Just click on the ship name in the table and the file will download. Once it's on your hard drive, copy the commander file into your commandr directory and away you go!
---
---
Other stuff, that doesn't fit into any of the other categories.
FFE Trade Database (3c Version) (4K)


This is the Psion Series 3c version of the database that I used to use for trading in FFE, and for updating the trade page. It is in Psion Series 3c .dbf format, so you can copy it across to your Psion and use it while playing! Please note that due to my Series 3c breaking down, this database is unlikely to be updated in the future.
FFE Trade Database (EPOC Version) (7K)


This is the EPOC version of the database that I use for trading in FFE, and for updating the trade page. It contains all of the data from the earlier Series 3c version, and is frequently updated. I use it on my Psion Revo Plus, but it should also work on the Series 5mx and possibly on the Series 5 Classic.
---
Back to the Main Page