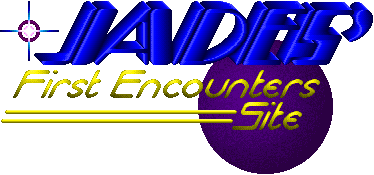 Last update: 10th January 2018
Gecko reviewed
Jades' First Encounters Site
Welcome to Jades' First Encounters Site, by Graham 'Jades' Thurlwell! This site aims to give you almost all of the FFE info you will probably ever need, such as hints on the missions, ship and equipment reviews, a nice guide to interesting (or otherwise) systems and plenty of general background of the game.
This page is for you, the FFE players, and depends on your support, so if you have any comments, by all means E-mail me. I welcome praise, (constructive) criticism or just about anything you fancy mailing me about since it helps to remind me that there are people reading the pages ;-) If the info you want isn't on this site, then give me a quick mail and I can tell you if I know the answer (but haven't uploaded that version of the site yet...) or genuinely don't know (but might know someone who does). Also, if you have any info on the game to tell me then let me know!
As always, you can look at the page What's new? for details of the things I've done recently.
Don't miss the Special Anniversary Feature! Musings on 20 Years of Running an FFE Site.
---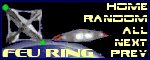 [FEU Ring Home]
[Prev] [Random] [List All] [Next]
---
This site was developed using Hotdog Professional, HTML Edit Studio and !StrongED
---
Boring Legal Stuff
The copyrights stated here apply for all pages and sections of this website. I have put years of hard work into creating this resource, and don't ask you for a single penny (or cent, delete as appropriate) to see it. Therefore, if you feel that you want to include any of it I'd appreciate it if you ask me first and give me credit for it.
Still awake? Here's the copyrights:-
All text & graphics © 1996-2023 Graham Thurlwell unless otherwise stated.
Icons © 1997-2023 George Hooper, mainly based on those in FFE.
Original background sprite © 1996-2023 David Gilbert.
Frontier: First Encounters © 1995 and TM Frontier Developments
All other copyrights and trademarks are acknowledged where most relevant.
Disclaimer
This is a website about a computer game, and large elements of it are works of fiction. Views expressed herein are not necessarily the views of Graham Thurlwell either in real life or as a player character in the game. They are certainly not the views of my employer or Frontier Developments.
---
Back to the top
Back to my Home Page!