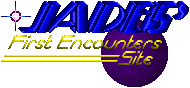 Contacting Jades
Via E-mail
So, you want to contact me? Great! However, I'll appreciate it if you read this page first, so that I can help you as quickly and simply as possible.
Due to the large amount of spam I've been getting recently, I've been using AntiSpam to delete junk mails direct from the email server. To avoid genuine messages being killed, it seems prudent to add a safeguard. Adding [JFFES] (including the square brackets) to the subject line of your email should ensure that it isn't deleted by mistake. Don't forget to include the rest of the subject line (i.e. '[JFFES] Asp Query').
Read the Frequently Asked Questions file before mailing me. This contains answers to most of the things people, erm, frequently ask questions about. It's likely that the answer to what you want to know will be in there. If it isn't, it's probably somewhere on this website.
Please don't use a subject line of "FFE" or "First Encounters" - I already know that you want to talk about the game - that's why I set up the account ;-)
Frontier Developments have a technical support section for the Frontier games. This includes advice on running the game on Windows ME.
If you're requesting technical help, please provide the following information about your computer and FFE:-

Processor type and speed
Amount of memory
Operating system
Soundcard
Graphics cards
FFE version number
FFE media type (Disk / CD)

I've noticed a couple of things which crop up frequently, so it seems sensible to give the answers here (although they're in the FAQ):-

If you're experiencing control problems on the official version of FFE, try unplugging your joystick before running the game - the joystick support doesn't actually work. John Jordan's JJFFE does have proper joystick support.
The Transmission Jammer works automatically - as soon as you enter the system where the classified mission is located, it turns itself on. Don't forget to blow up the satellite before you leave.

If you're trying to get FFE to run on a Windows 95/98 system, a guide containing useful information can be found here. You'll need MS Word 6.0 or above to read it. I can only vouch for Windows 95 performance - I don't have Windows 98 or Windows 2000 on my system. If you still can't get the game to work, try asking on alt.fan.elite. Alternatively, you can use John Jordan's hacked version of FFE, JJFFE. This will allow you to run the game from the Win 9x desktop. See the JJFFE Homepage for more details.
If you're using JJFFE and are having problems with it, your best option for getting support is John's website.
The latest information I have on getting Elite, Frontier: Elite 2 or Frontier: First Encounters can be found here. I try to keep this page as up-to-date as possible.
Frontier Developments' Website can be found at http://www.frontier.co.uk, and contains information on the various games David Braben has written. It also includes FAQs on the Elite games.
Note that Frontier Developments have now re-released Frontier: Elite 2 and Frontier: First Encounters. See the Download Section of the Elite Club for more details.
The FFE patches are now available from the Download Section of the Elite Club. These are the official Version 1.06 patches, which are the newest released ones. Please note that if you use the version of FFE from the Elite Club, it is already patched to v1.06.
If you want a copy of the FFE Manual, you can find one at http://members.lycos.nl/bordspelers/ffeman/index.htm which was put together by Franke Scheper. As for Frontier: Elite 2, there's one at the Elite Club website.
Please read all of my site - it gives me a nice warm feeling. Also, it saves people asking me questions I already answered on it. In case you haven't already noticed, I've now implemented a search engine. The query box is at the bottom of the Index on the main page.
Braben is working on Elite 4. Keep an eye on the Frontier Developments website or alt.fan.elite for any new info. It should be pointed out, however, that information about the game is very hard to find due to the large amount of secrecy surrounding the product.
---
Back to the Main Page