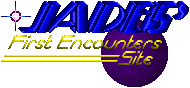 Links to other Frontier: First Encounters information
This page provides you with links to other FFE information on the Internet. Due to the changing nature of the net, this page is frequently updated. One of these days, I'll review them properly, but to paraphrase New Rossyth Shipyards - "It's a huge Internet - good luck out there!"
I'm always happy to link to new sites, so if you have an Elite-series website just ask me to link to your website and I'll update this page as quickly as I can. See my contact details.
---
E-mail
How to contact the author of Jades' First Encounters Page directly!!
---
Elite Sites in Other Languages
The first Polish-language FFE site, and an exceptionally comprehensive one too. You'll need to install Polish fonts first if you want to read it in that language.
---
FFE Websites
The homepage of John Jordan's enhanced version of FFE, which can run from the Windows desktop and has better device support and fewer bugs. JJFFE is also available from the Unofficial Elite Club site.
kolijoco's site for his OpenGL version of FFE. "glFFE is based on John Jordan's JJFFE recompilation and is optionally supplemented with Anisotropic's gameplay balance mod. This replacment executable uses opengl for rasterizing. It should scale nicely to any OpenGL resolution (windowed or fullscreen). It supports music (custom ogg and mp3 as well as original the midis), and features an engine to customize the cockpit console."
Almost certainly the best-looking FFE site on the web, and contains a lot of unique artwork. Well worth visiting.
Despite being a running-dog Federalist scumbag (see Raq, I told you I wasn't bitter about you changing sides!), Colonel Raqoon has produced a good site. Of particular note is the super soar-away Trojan Observer. It's a reet riveting read!
Zat Solo's FFE page, which has the best links page on the net!
One of the other big beasts in the FFE jungle. Maintained by Matt Dibb.
Dylan Smith's FFE Page, featuring a large amount of FFE and Frontier information, a message board, the definitive guide to the Alliance and much more.
The FFE Site of Urban Confederate.
---
Other Elite Sites
After a long delay and assorted false starts, David Braben is once again looking at releasing a new game in the series. Elite Dangerous is the current name for what may become Elite IV. In an interesting departure from previous practice, DB is looking for people to pledge funds via Kickstarter to support the development of the game.
From the people who run the excellent IL-2 Sturmovik website Mission4Today, Combat Asylum has recently been relaunched and now aims to bring you "the latest news and developments in space based games and simulations." It currently covers the fourthcoming Elite Dangerous and Star Citizen, and also intends to feature freeware and retro games too.
Founded by Red Gamma, the Elite Web Awards aims to see what the Elite Community think of all those websites out there. Still early days, but if it takes off it could be much more definitive than all those other web awards schemes that assess more on whether a site is 'k3w1' than on how it serves its community.
'Everything you wanted to know about the Imperial Courier and were afraid to ask' is Andrei Tanase's website totally dedicated to one of most Commanders' favourite FE2 and FFE ships. A remarkable achievement.
The official website of the developers of FE2 and FFE.
The website of the original co-author of Elite 1. Includes downloadable copies of practically all versions of Elite 'Classic.'
Simon Challands' excellent ArcElite site. Also contains extensive info about Angus Duggan's Elite-A, a truly impressive extension of the original BBC version of Elite (which still works on the BBC B).
Covers the Elite Series as a whole, with Frontier (FE2) being particularly well covered with ship information and the Frontier Information Database Online (FIDO). This site also features a number of interesting challenges for the experienced Frontier player to try and beat.
Robin Sharrock's Frontier: Elite 2 site. Good range of info.
A website by Commander Steve, which is dedicated to Frontier and Astronomy.
A Java Spectrum emulator running Elite? Now I've seen everything!
---
Other Space Sim Sites
Simon Challands' other website, featuring Stereoscopic Images with an Elite theme.
The official website of the latest pretender to the Elite throne.
One of the best Hardwar sites around, with a huge amount of useful information on one of the best Elite-style games released. Now has the betas for the long-awaited U3.0 upgrade patch.
---
Other Links Pages
My other links page, for non-Elite stuff.
If it's on the web, there's probably a link to it in this page. Check it out!
---
Newsgroups
The newsgroup for Elite information
The newsgroup for information on the 'Elite sequel' being written by the fans.
The general-purpose space sim newsgroup.
If your ISP doesn't carry these groups, access them via Google Groups. It's FREE!
---
Back to the Main Page
Back to the Button Bar