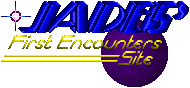 Tutorials
In this section you'll find handy hints about playing the game, from general information to detailed explanations of the various career options available to you.
This section is currently under construction.
Index
Basic Careers UPDATED!
A general overview of your career options.
Mining Tutorial
UPDATED!
Covers both asteroid and mechanical mining.
Assassin Tutorial UPDATED!
How to become a hired gun.
Combat Tips
How to fight in FFE.
Smuggling Tutorial
Illegal trading for fun and profit.
Trade Tips
All the info you need to pursue a successful career in trading.
---
Back to the Main Page