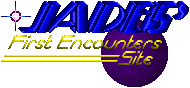 The Art of Combat
There will come a time where combat in FFE is unavoidable. The simple fact is that the universe is full of people who may, at one time or another, want to kill you. There may be a number of reasons why they don't like you, but someone will want you dead.

The main type of hostile that you will encounter on a day-to-day basis (assuming you're not engaged in anything where opposition is inevitable) are pirates. Pirates generally want to kill just for the hell of it, or they want to steal your cargo. You could (of course) eject or run away, but this may not appeal to you.

Combat in FFE is a fine art. There will be a number of occasions, usually when you haven't had much experience or your ship isn't exactly a mobile arsenal, where you get killed quickly and frequently. Don't let this worry you. Remember - it's a game, and if you get killed you can always reload your save and try again. Saving regularly is a good idea even for experienced pilots (due to the bugs), but for inexperienced players it's even more vital.

You may, armed with this knowledge, go straight back to the game and play on. That's OK. The beauty of FFE, and the other Elite games, is that you are in charge of your destiny. On the other hand, you may like to read on, and learn from the experience of the old hands.
Basic Tactics
Another great thing about FFE is the wide variety of possible combinations of ships and equipment on offer. As such, it is impractical to offer advice specific to what you might be flying. However, most of the basic tactics apply for virtually every ship and equipment specification in the game.

For your convenience, I'll detail some of the most common situations you'll find yourself in, and give advice on how to survive them.
Pirates
Pirates tend to attack just about anyone that's in the system, irrespective of what their target is and what it might be carrying. The main reason for them doing this is probably that they want to steal your cargo and sell it for a big profit. That or they're just psychos!

In the original BBC Elite and in Frontier, pirates always attacked you one at a time. Therefore you engaged in single combat with your adversary, and one of you would come out alive.

The key to victory was to fight better than your opponent and to make your shots count, while avoiding getting hit yourself. Once you'd won, you had some breathing space to regenerate your shields before your next fight.

In FFE, it is quite possible you will be jumped by pirate bands, often composed of more than three ships. The actual types of ships can vary, ranging from unarmed light fighters (target practice) to medium fighters packing 4MW beam lasers (can be dangerous). If you're really unlucky, one of the ships will be a large craft like an Imperial Courier or a Lanner, armed with a 20MW beam laser.

Obviously, your chances of survival depend upon your skill, the specification of your ship, and the number and specification of the pirate ships. The best thing to do in combat against multiple bogies is to KEEP MOVING! This is actually a very good general rule, but especially useful against pirates. If you keep changing your direction and relative speed you will be much harder to hit and therefore you will live longer.

In addition, concentrate your fire on one ship at a time. If you keep switching targets, then it will take longer to kill your enemies and also give them a chance to regenerate their shields (if they have them). As a general rule, you should try to take out the most powerful ship first. In certain situations, there will be one ship which is much more powerful than the others (i.e. an Imperial Courier with a 20MW Beam Laser). Since this will be doing you the most damage, it makes sense to destroy it first.

Of course, the best defence against pirates is to stick to safe areas where pirate attacks are unlikely (particularly the core Federal and Imperial systems).
Assassins
You're not likely to encounter assassins all that much (or at least they won't be after you). However, it's possible that that passenger who's offering you a stupidly high fee to get to a system has annoyed someone enough to put a price on his head. Because you're now carrying the target, that means that you're likely to get shot at.

You'll know when you're being attacked by an assassin, because they'll inform you that "you'll regret dealing with" somebody - the name will be the one of the person who's hired you to transport them or their parcel. Fortunately, assassins virtually always attack on their own so you'll be able to concentrate your fire on their ship.
---
Back to Tutorials Index
Back to the Main Page