What is the Urutu?
There has been a debate over a period of years about what the Urutu referred to in the Moccassin datacard actually is. There are a couple of candidates, which are generally rare encounters. I've recently been flying with DoggySoft's Hacker loaded, and have taken some screengrabs of the ships i think are probably the Urutu. These grabs appear on this page, together with my speculation on each one.
Ship 1
This is the ship reckoned by many people to be the elusive Urutu. !EliteExt's ID feature identifys this ship as being the Urutu, but the program has misidentified a number of ships, including mixing up the Boa 2 and Anaconda.

It has been very difficult to get some sort of size comparison for the ship, but I recently spotted one being towed by a Viper, and I managed to get a screengrab, which is below.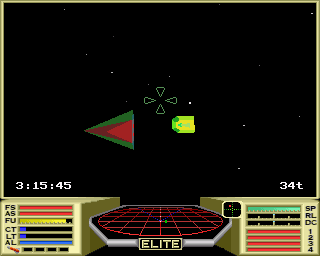 As you can see, the 'Urutu' is considerably smaller than the Viper, which would seem to suggest that a theory some people (including Simon Challands) have put forward that this ship is in fact a Galactic Navy prototype of a Thargon-type ship is correct. I was sceptical at first, but this grab is pretty good evidence. On the other hand, it could be a small one-man fighter, similar to those found in Frontier.
One of the ships of this type I encountered appeared to have the following spec:-
Shield strength: 23
ECM
Front Pulse Laser
Rear Pulse Laser
A little overspecified for a drone, IMHO, but you never know!
Ship 2
This is the other ship which is a candidate, identified by !EliteExt as the Moccassin, although it isn't the ship on the Moccassin datacard (which is ID'd as 'Special Moccassin').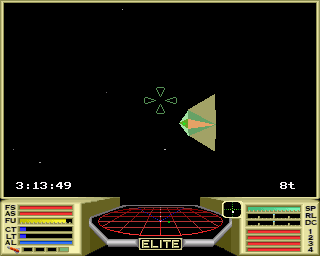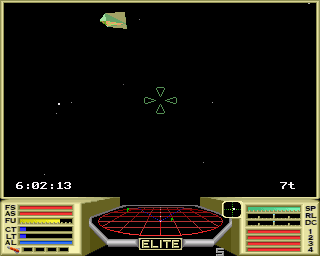 The first picture shown above is the possbile Urutu, the second is the regular Moccassin. As you can see, the first ship differs from the second in a number of ways:-
The first ship is shorter, but has a noticably wider 'wingspan.'
The colour scheme of the first ship is different from the Moccassin - there are no green triangles in the orange triangle aft of the cockpit, and the cockpit window is green rather than red.
My Conclusions
Although I had originally thought that the first ship was the Urutu, the screen grabs shown here suggest that I may have been wrong. The first ship seems to be too small to be a cousin to the Moccassin, whereas the second ship bears a distinct resmblence, while still being different enough to be considered a seperate ship design.

Of course, if the second ship is the Urutu, what is the first ship?
---
Back to the Datacard Index
Back to my homepage